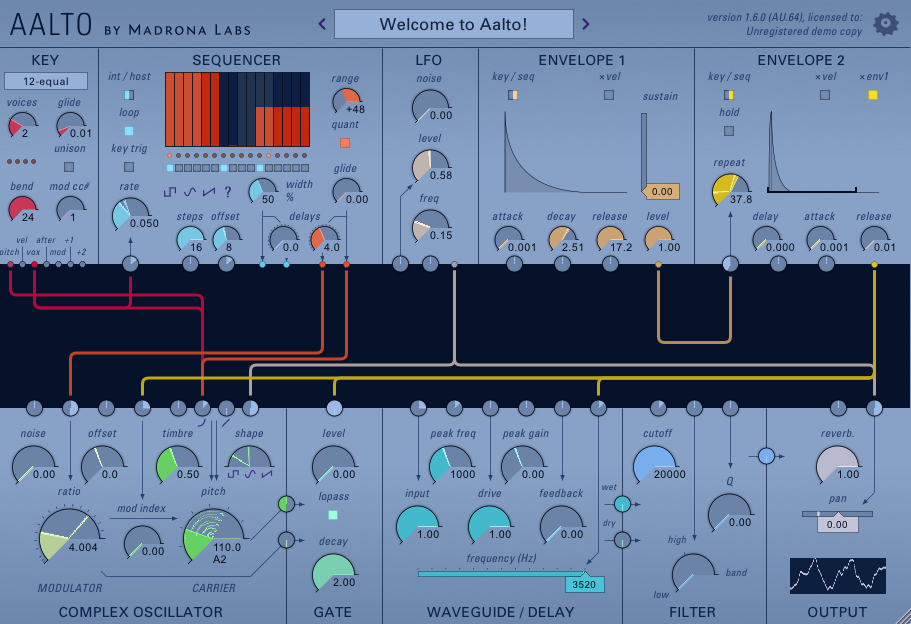 Madrona Labs Aalto adds support for Multidimensional Polyphonic Expression (MPE), enabling compatibility with next-generation expressive controllers. The Aalto 1.7 update is free for existing customers.
Aalto, the patchable software synthesizer from Madrona Labs, now supports Multidimensional Polyphonic Expression (MPE). MPE is a new protocol developed in cooperation with Apple, Bitwig, Haken Audio, KMI, Madrona Labs, Moog Music, Roger Linn Design, ROLI and others. With MPE, software and hardware synths can support the per-note expressive capabilities of new controllers like the Linnstrument, Seaboard, and Soundplane.
The Madrona Labs Soundplane, Roger Linn Designs Linnstrument and the ROLI Seaboard are all new musical controllers that provide per-note expression. Unlike MIDI keyboards, these multidimensional controllers let musicians shape each note independently using pressure as well as x/y motion, bringing an acoustic sounding nuance to electronic performance. Unfortunately, a typical synthesizer can't process all this multidimensional information.
Enter MPE. MPE controllers and synthesizers use the tried and true MIDI protocol, so they are compatible with existing DAWs. But they use it in a new way: a single note is transmitted over each MIDI channel, so each note can have its own continuous pitch, pressure, x, and y changes over time.
Madrona Labs' synthesizer Aalto now supports the MPE specification for compatibility with MPE-aware controllers including the Linnstrument, Seaboard, and Soundplane. With MPE as the connection between these instruments and Aalto, per-note expressive performances can now be captured and edited in most MIDI recording software.
Aalto version 1.7 also brings improved Soundplane compatibility with MIDI patches, optimized animation drawing, and bug fixes. MPE support in Madrona Labs' Kaivo synthesizer will follow next month.